GSGC Affiliates offer activities for the General Public throughout the year. Many of these activities are held at affiliate institutions with planetariums (Agnes Scott College, Columbus State University, Georgia Southern University, University of North Georgia, and the University of West Georgia). Additionally, the Museum of Aviation hosts a variety of activities throughout the year. Also check out the calendar on our home page for other activities.
Agnes Scott College: Bradley Observatory Open House Lecture Series
The Bradley Observatory Open House Lecture Series is more than 60-year tradition at Agnes Scott College. Activities include Friday night openings of the College telescopes to the neighborhood; a monthly lecture and an "open house," where guests have an opportunity to mingle, see a planetarium show, and make observations with the Bradley Observatory telescopes. Read more >

Center for Sustainable Communities: Early STEM Education Cradle to Career Initiative

In Atlanta, 70% of children born into poverty will stay in poverty as adults. Therefore, deliberate intervention is necessary. The Center for Sustainable Communities is working with Easter Seals of North Georgia to establish a Cradle to Career Pathway into STEM Education starting in early formative years. Currently, the program covers eight (8) North Georgia Counties, 1600 youth, and 4500 family members. The Cradle to Career Initiative charts a pathway from early years all the way through college. The program also has a strong focus on teacher professional development and meaningful community engagement.
Read more >
Museum of Aviation: STEM Summer Camps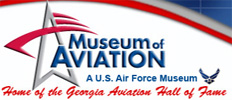 The Museum of Aviation Foundation Education Center's National STEM Academy aims to educate, engage and inspire students and teachers in the foundations and innovations of science, technology, engineering and math (STEM) through motivating workforce development programs. It offers exceptional learning experiences to challenge students to apply theoretical knowledge of science and math in a problem-solving context.
Read more >
Georgia Southern University: Solar System Walk

The Solar System Walk on the Georgia Southern University campus consists of nine markers with brass rubbing plaques placed at scaled distances from the Planetarium. As an outdoor activity in support of K-12 class visits to the Planetarium, students are given a "Solar System Passport" where they obtain rubbings from the plaques representing the inner planets that will reside in the planetarium courtyard. Students can return with their parents to complete their "passport" and decode from the rubbings the location of the final "comet" plaque.
Read more >
University of West Georgia: Community Science Programs, Planetarium Presentations

The University of West Georgia hosts community events such as "Physics Demonstration Night" and "Astronomy Demonstration Night" for the general public are held four to six times per quarter. Special observations by science classes, science clubs, and civic or religious groups may be arranged by contacting the Director of the Observatory, Dr. Bob Powell. The programs also include digital planetarium shows such as "Archeoastronomy."
Read more >